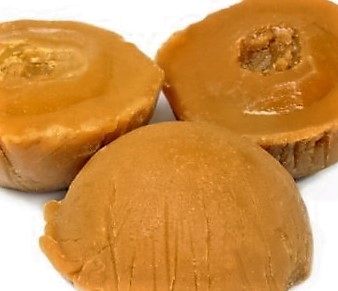 Jaggery is a concentrated product of date, cane juice, or palm sap without separation of the molasses and crystals, and can vary from golden brown to dark brown in color. Jaggery is a more complex form of carbohydrate than plain sugar. When you eat jaggery, it is digested and absorbed gradually and releases energy over an extended period of time. This can provide the eater with warmth and energy for a more extended period without harming their internal organs.
Jaggery activates the digestive enzymes and itself changes to acetic acid in the stomach, thereby speeding up digestion and making the process go very smooth, reducing strain on the intestines and digestive tract. Jaggery effectively cleans the respiratory tracts, lungs, food pipe, stomach and intestines. It pulls out dust and unwanted particles from the body, while also giving relief from constipation, perhaps due to presence of fiber in it.
Unlike sugar, jaggery is rich in minerals, mainly iron with traces of other mineral salts. While most of the iron in jaggery comes through its processing in iron vessels, the other minerals come directly from the sugar cane juice, since the juice does not undergo refinement or bleaching of any kind.
Source: https://www.organicfacts.net/health-benefits/other/benefits-of-jaggery.html