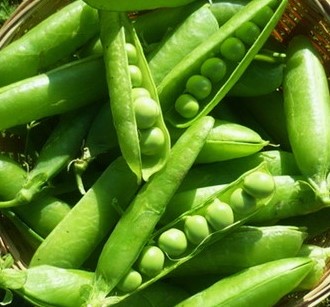 Green peas are a great addition to your menu because in addition to their concentration of vitamins and minerals, they also provide the carotenoid phytonutrients, lutein and zeaxanthin, which are known to promote vision and eye health.
A Mexico City-based study has shown that daily consumption of green peas along with other legumes lowers risk of stomach cancer (gastric cancer), especially when daily coumestrol intake from these legumes is approximately 2 milligrams or higher. Since one cup of green peas contains at least 10 milligrams of coumestrol, it's not difficult for us to obtain this remarkable health benefit.
Because of their sweet taste and starchy texture, we know that green peas must contain some sugar and starch (and they do). But they also contain a unique assortment of health-protective phytonutrients.The unique phytonutrients in green peas also provide us with key antioxidant and anti-inflammatory benefits. Included in these phytonutrients are some recently-discovered green pea phytonutrients called saponins. Some researchers have now speculated that the association between green pea and legume intake and lowered risk of type 2 diabetes may be connected not only with the relatively low glycemic index of green peas (about 45-50) and their strong fiber and protein content, but also with this unusual combination of antioxidant and anti-inflammatory phytonutrients.
Source: http://www.whfoods.com/genpage.php?tname=foodspice&dbid=55