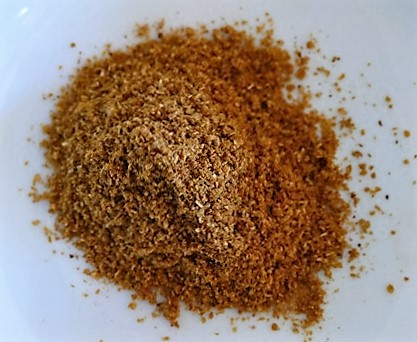 Garam Masala is a very popular Indian dry spice blend that is used in a variety of dishes. It's very easy to make at home in your very own blender. The most commonly used ingredients in garam masala are cumin, coriander Seeds, cinnamon, black pepper clove and cardamom. Take an ounce of each of these spices, throw them in a blender and you have 6 ounces of Garam Masala ready. Depending on how much you cook this is good enough to last you a month or more. Store in refrigerator to keep it fresh.
Garam masala is said to "heat the body", meaning it raises body temperature.  In fact, according to ancient Ayurvedic texts, garam masala was born because it provides the right balance of warmth and heat needed for optimal metabolism. Without it, our bodies become sluggish and accumulate toxins. Ayurveda also believes that garam masala contains all 6 tastes for a perfectly balanced dish. Other health benefits garam masala is believed to give us include boosting immunity, promoting weight loss, helping with digestive processes, alleviating pain and lowering blood sugar levels. ( Para 2 Source: http://www.onegreenplanet.org/vegan-food/garam-masala-the-ayurvedic-spice-we-should-be-eating-more-of/)
Order your own bottle of Organic Garam Masala here.