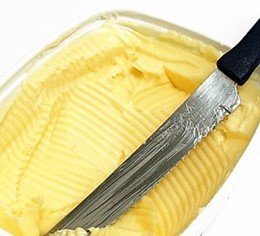 Although butter has had fluctuations in reputation over the years, it is actually a very beneficial part of a person's diet that can improve your immune system, regulate our hormones, protect our vision, boost metabolism, increase brain function, reduce chances of heart disease and blood pressure, and protect you from cancer. Furthermore, butter can protect against gastrointestinal conditions, while ensuring proper development of brain and nervous system development.
Powerful antioxidant: Natural butter contains high levels of carotene, an unusual and essential nutrient for human beings. Carotene contributes to human health in two ways, either turning into antioxidants, or converting into vitamin A. In terms of antioxidants, about 60% of carotene taken in by the body is changed into these disease-fighting compounds in the body.
Anti-Cancer properties: High levels of vitamin A and beta-carotene have also been widely studied, and positive connections between these two nutrients and lower chances of colorectal and prostate cancer have been found. More research is still being done on vitamin A's impact on breast cancer, but studies so far have been promising.
Source: https://www.organicfacts.net/health-benefits/animal-product/health-benefits-of-butter.html